Upcoming Education Sessions
To register for a session, please contact Anne-Maria Korpikoski at:

519-663-5317 ext. 2362, or
Tuesday, June 6, 2023 (Session is Full)
1:00 pm – 4:00 pm
Stoney Creek Library Meeting Room
920 Sunningdale Rd E, London, ON
Tuesday, June 20, 2023 (Session is Full)
1:00 pm – 4:00 pm
Jalna Library Meeting Room A&B
1119 Jalna Blvd, London
Thursday, June 22, 2023 (Session is Full)
1:00 pm – 4:00 pm
Byron Library Meeting Room
1295 Commissioners Rd W
Cost
Course is free of charge. Free parking available.
Who should attend?
Public pool, spa, wading pool or splash pad owners, operators, lifeguards, management and support staff who work at facilities located in Middlesex-London.
Why should I attend?
Recreational water facility owners and operators are legally responsible for making sure their facilities meet the Regulations and that their staff are knowledgeable. Public Health Inspectors from the Middlesex-London Health Unit help you reach these goals. A facility that is not taken care of properly may create needless risks for users, including water-related illnesses or injuries.
Note: Information gathered for participation in the education sessions is completely voluntary. It is collected for the purposes of issuing a certificate of participation, communicating schedule changes, for program planning and evaluation, and for providing updates to operators. If you have further questions, please contact Andrew Powell at Andrew.Powell@mlhu.on.ca or 519-663-5317 ext. 2360.
Public Pool and Public Spa Operators Guide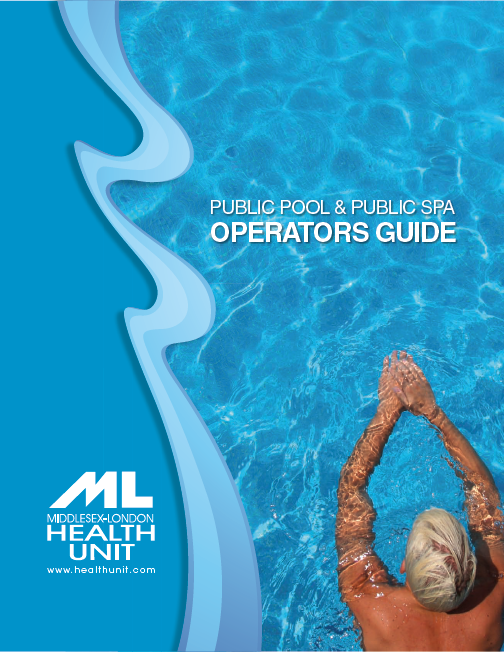 ***Please note that this guide is based on the Regulation requirements that were in place before July 1, 2018. A revised guide is being prepared and will be released as soon as it is available.
On-site Education
If you can provide ten (10) or more attendees, we can offer education on-site at your facility. If you are interested in this option, please contact Anne-Maria Korpikoski at:
519-663-5317 ext. 2362, or