How does Lyme disease affect humans?
Lyme disease is transmitted (passed on) to humans through the bite of an infected blacklegged tick (deer tick).1 The transmission cycle (how the virus is passed) begins when ticks feed on birds and small mammals that carry Lyme disease. Once the tick bites an infected animal, it becomes infected with Lyme disease and could possibly transmit the bacteria to humans through a bite.
A tick can transmit infection after being attached for 24 to 36 hours, because it takes time for the bacteria to travel from the tick's gut into its salivary glands.1 It is important to check for ticks and quickly remove them in order to prevent Lyme disease.1 If a blacklegged tick has Lyme disease but is removed right away, it is unlikely that infection will be passed on.
What are ticks?
Ticks are:
Closely related to spiders.
Very small (1 to 5 mm) when unfed, and cannot fly or jump.
Usually found around the edges of trails, tall grass or bushes.
Do all ticks transmit Lyme disease?
No, not all ticks transmit (pass on) Lyme disease. In Ontario, Lyme disease is only transmitted through the blacklegged tick (deer tick).2
Where are blacklegged ticks found?
Blacklegged ticks (the ones that carry Lyme disease) are most often found along the shores of Lake Erie, Lake Ontario and the St. Lawrence River.1 Blacklegged ticks are known to feed on migratory birds, and as a result, they are found mainly along the routes that birds fly and can travel throughout the province.1
Submit a Tick
The Health Unit accepts tick submissions year round. Learn how to submit ticks.
Prevention and Personal Protection
Lyme disease can spread through the bite of infected blacklegged ticks (deer ticks). Learn how to protect your family and prevent tick bites.
Lyme Disease Risk Areas
Blacklegged Tick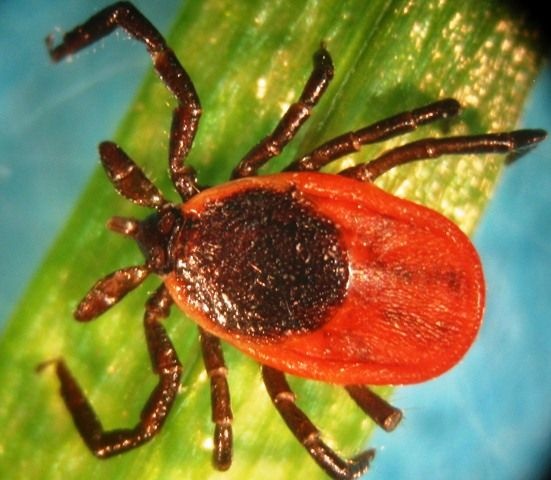 Dog Tick