The Baby-Friendly Initiative:
Is a global, evidence-based approach that increases the health and well-being of all children and families
Protects, promotes, and supports breastfeeding
Is for hospitals and community-based health organizations
Has 10 steps (PDF 27KB) that organizations need to follow to become designated as "Baby-Friendly"
Requires compliance with the World Health Organization's (WHO) International Code of Marketing of Breastmilk Substitutes and subsequent relevant World Health Assembly Resolutions.
All Health Units in Ontario have been mandated to implement the Baby-Friendly Initiative. Other health care organizations (eg. Hospitals, community health centres, family health teams) in the province are also being encouraged and supported to adopt these best practices for prenatal and postpartum care. Middlesex-London Health Unit was formally designated as Baby-Friendly in December 2015.
Where can I get more information?
BFI Poster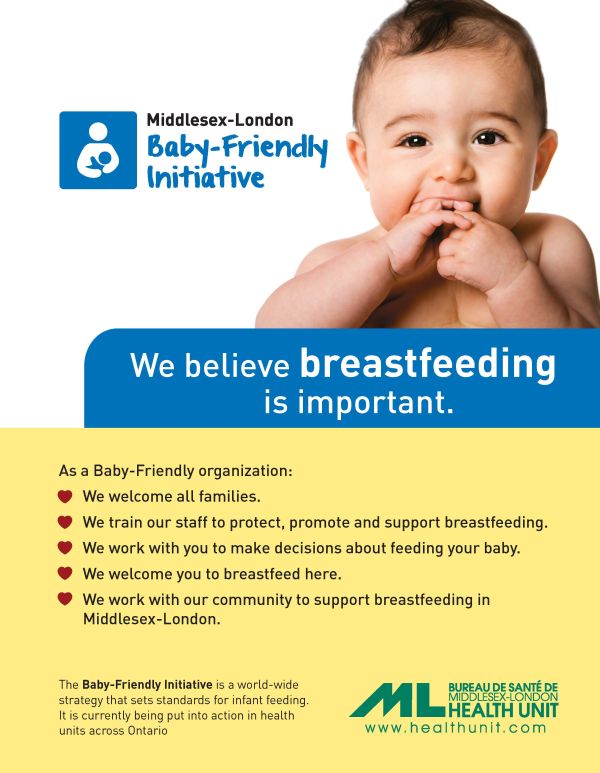 View, download and print the
Baby-Friendly Initiative Poster
(PDF 1MB).
Breastfeeding Supports
We offer many types of breastfeeding supports for you and your baby.
Learn more →
Prenatal breastfeeding classes
Telephone support
Breastfeeding appointments
Infant Growth/Development and Breastfeeding Drop-ins
Breastfeeding videos