Find a Flu Shot Clinic
Flu shots are available at healthcare provider offices and participating pharmacies. Find a participating flu shot clinic near you.
Table of Contents
What are the Signs and Symptoms of the flu?
People with influenza quickly become sick with:
cough,
fever,
sore throat,
headache,
muscle aches and
tiredness
How does the flu spread to others?
Influenza spreads easily from infected people to others through coughing and sneezing. It can also be picked-up by touching unwashed hands and from surfaces and objects such as toys.
How can I protect myself from the flu?
It is not always possible to prevent becoming sick with the flu but there are a few things that you can do to reduce your risk of illness.
The most important thing you can do to prevent illness is to clean your hands frequently with soap and water or alcohol-based hand sanitizers. Alcohol-based hand sanitizers should contain 60-90% alcohol. Hands should be cleaned after handling tissues, blowing your nose, shaking hands, touching objects around you and before preparing and eating food.
The flu shot is the best way to reduce your risk of getting sick with influenza and spreading it to others. In elderly people, the vaccine can prevent pneumonia, hospitalization and death. It is important to get your flu shot early. Protection from the vaccine develops around two weeks after receiving it. Protection from influenza may last up to one year. People who receive the vaccine can still get influenza, but if they do, it is usually milder. However, the vaccine will not protect against colds and other respiratory illnesses that may be mistaken for influenza.
3. Stay home if you feel sick
Sick people who go to work, school and other public places can spread their illnesses to others. Staying home when you are ill is important to help reduce the spread of influenza. You can return to work or school one day after you are symptom free.
Coughing and sneezing can spread germs to others. Cough or sneeze into a tissue and throw it away. If you don't have a tissue, cough or sneeze into your sleeve. Always clean your hands after coughing or sneezing,
5. Clean surfaces
Frequently clean and disinfect surfaces that are touched a lot like doorknobs, keyboards, counter tops, sink taps, etc.
We do more than…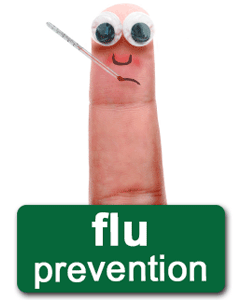 2016 Seasonal Influenza Fact Sheet →
Infographic:
The Story of Influenza