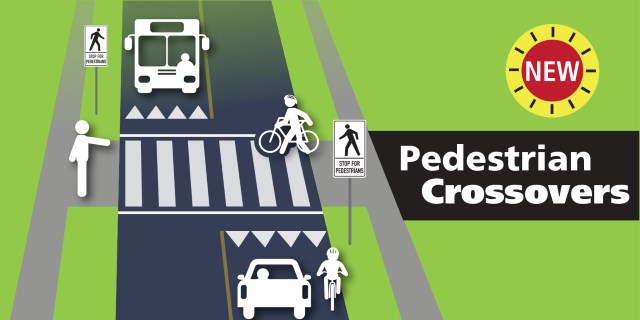 All road users - drivers, pedestrians, and cyclists have a responsibility to know their role when approaching a pedestrian crossover.
Distracted Driving
Buckle up and keep your phone down! A moment of distraction is all it takes to change a life.
Share the Road
Be respectful. Be courteous. Look out for cyclists on the road, slow down and only pass when it's safe to pass.
Did you know?
Motor-vehicle collisions are the second leading cause of unintentional injury-related hospitalizations and deaths among both males and females within Middlesex-London.1
Most unintentional injuries are preventable and predictable.
Drivers
Wear your seatbelt.
Drive according to the weather conditions.
Cyclists
Make eye contact with the driver before walking your bike across an intersection.
Children under the age of 14 can bike on sidewalks in the City of London.
Walkers
Follow the safety rules and wear reflective clothing to be seen day and night.
Be Safe and Be Seen when you're out and about walking, biking, jogging, boarding, blading, etc.
Contact Us
Healthy Communities and Injury Prevention Team
519-663-5317
Date of creation: February 28, 2013
Last modified on: January 17, 2020