The Evidence
An estimated 37% of youth smoking in Ontario is due to onscreen smoking exposure.2 This may be because young people see their favourite actor using a tobacco product in a movie and then think smoking is a cool thing to mimic.1
Children and youth are very impressionable, and they will mimic behaviours that they observe (whether it is in real life or in movies).
An estimated 13 200 current smokers in Ontario aged 12 to 17 were recruited to smoking in a year because of watching smoking in movies. It is predicted that 4200 of these young smokers will die prematurely as a result of tobacco imagery in movies.2
The Ontario Tobacco Research Unit (OTRU) did a study in 2014 on the effects of smoking in movies on youth smoking. They found that 86% of movies released from 2004 to 2013 that contained tobacco images were actually rated for youth in Ontario. In comparison, 54% of these same movies were rated for youth in the United States.2 This means that youth in Ontario had a much higher exposure to onscreen tobacco images compared to youth in the US.
The Tobacco Industry
The Tobacco Industry knows that media is very influential on the development of child and youth behaviours, and so they have used tactics such as paying movie producers to promote tobacco products in movies, or paying actors to smoke their brand of cigarettes on screen.
The Tobacco Industry will go to any length to make smoking look cool to manipulate young people into becoming addicted to their products. Movies are one of the few remaining places that the Tobacco Industry can still showcase and promote its products. Help us remove this source of influence on youth today, so that we may reduce the negative effects of tobacco use later on in their lives.
Infographic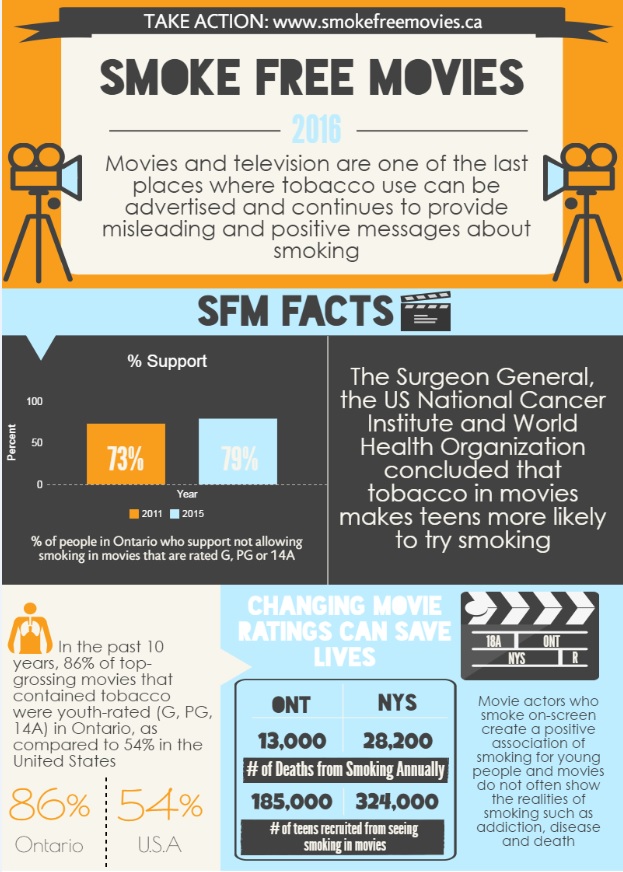 View, download and print (PDF 188KB)
Smoke-Free Movie Night - 2016