Screen Time
For many families, screens (e.g. phones, tablets, TVs) are an easy go-to for occupying children. We know it's not good for our kids, but the reality is that screens are here to stay. So what can we do?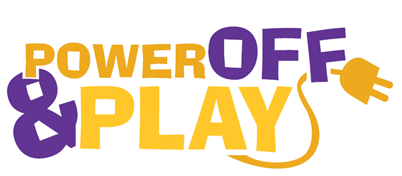 ---
Screen-Free Activities and Ideas
If you want to cut back on screen time, here are some ideas and free/low-cost activities.
Just get outside!

There are bound to be interesting bugs, worms, flowers, sticks, leaves, birds, rocks, frogs, etc. to be found. Don't be afraid of rain or snow either. Just dress for the weather. Splashing in puddles provides endless fun.

Crafts, painting or colouring

Try and think of new ways to use the same old materials. Use the things you found in outside, or other interesting things around the house, in the projects as "stamps" with paint, to glue on or trace.

Run through a sprinkler.

Try not to be afraid of the mud!

Read a book.

Read a book or have your child read to you. If they can say some words, they can tell you a story.

Do age-appropriate chores.

Encourage children to help with age-appropriate chores. Eventually you will find this helpful.

Experience boredom.

Allow them to experience boredom occasionally. It develops creativity!
FREE/Low-cost Activities
Know the recommendations
It is suggested that:
Children under 2 years of age do not have any screen time (yikes!)
A maximum of 60 minutes a day of educational screen time is advised for toddlers and preschools more than 2 years of age.1
---
Know the "whys"
Sometimes knowing why the "experts" say what they do can help make it a little easier to try to adopt healthier lifestyle choices - like reducing screen time for children and adults!
Young children have only so many waking hours in their day and there is so much to see, hear, do, experience, talk about and think about! Screen time can really get in the way of children:
learning about and developing their relationships with others - most importantly their parents and caregivers
enjoying active outdoor play
using their imagination and being creative
A child who spends minimal time in front of some screen has less risk of them experiencing:
overweight (from lack of activity, mindless snacking in front of screens)
sleep-deprivation (from blue light stimulation and screen time replacing sleep)
lack of school readiness
shorter attention span, aggressive behaviour and inability to self-regulate2
---
Have some strategies ready
You know there are going to be some times during the day when it would just be so easy to hand over your phone or plop your child down in front of the computer or television.
Try to have some activities available when possible. Pack a bag of special books, colouring pages or puzzles when outside the house. Have a tote bag of a few unique activities reserved for those "special" moments. Check out www.londonpubliclibrary.ca. They have some great ideas while doing laundry, grocery shopping, travelling and during meals.3
Plan ahead. Consider developing a Family Media Plan when your children are young to help your family decide how screens will be used in your family.
Instead of screens, put on some music for your child and encourage them to sing and dance while you do the tasks you need to do.4
Give them a book and have them tell you the story whether they can read or not.
Talk about your day.
Involve them in the chores that need to be done (age appropriate).
Sometimes we, the parents, are drawn to screens and away from our children.
Remember that you are the most important teacher in your child's life.
It can be challenging but try to role model the type of screen use you want for them.
The attachment relationship between parent and child is strengthened through face to face interactions. Screens can interfere.
Are you pushing your child in a stroller? Put away your phone and talk about what you see and hear on your way.
Are you at the park? Put your phone away, look for "treasures with your child". Praise their growing physical skill on the play equipment.
Are you at a playgroup? Sure, take time to talk to other adults, but balance that with face to face interaction with your child as they show you what they are learning.4
When able, take time for re-energizing self care so that you are better prepared to meet your parenting challenges.
---
Strike a balance
When you do choose screen time as an activity for your child, keep the "3 C's" in mind.
The 3 C's:
Your Child
Is it age appropriate? Is your child interested? Can they pay attention long enough for the activity? Are they in the right mood?
The Content
Does the content have meaning for your child? Is it relevant to them? Can they be active while viewing? Are they learning something? Do you agree with the messaging? Is it too scary, too sad?
The Context
Is your child viewing with you or alone? Are they able to interact with the characters or the game on the screen?
"Young children learn more when an adult is with them to respond to questions and help them understand and apply what they are seeing and experiencing on screen."5
Recommended Reading
Date of creation: July 30, 2019
Last modified on: November 5, 2019
References