Laws and Reference Documents
Public Pool and Public Spa Operators Guide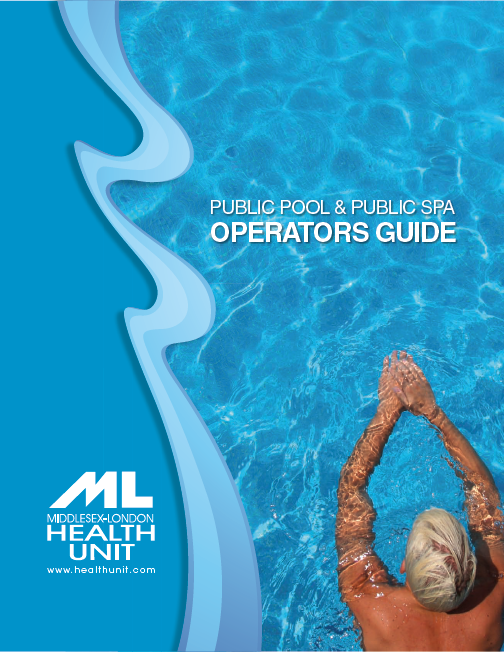 The Public Pool and Public Spa Operators Guide (PDF 10.9MB) was developed by the Middlesex-London Health Unit to help operators carry out their duties and protect bathers from recreational water illnesses and life-threatening injuries. However, it is important that operators know and follow the Ontario Public Pools Regulation (R.R.O. 1990, Reg. 565)1 because the guide does not include all sections of the Regulations.
Please note that this guide is based on the Regulation requirements that were in place before July 1, 2018. A revised guide is being prepared and will be released as soon as it is available.
Additional Resources
The Centers for Disease Control and Prevention has many useful resources that can be accessed through the search bar on their website. CDC.gov is your online source for credible health information and is the official website of the Centers for Disease Control and Prevention (CDC).
Search on CDC.gov for the following helpful resources:
Fecal Incident and Outbreak Response

On this web page view the Fecal Incident Response Guidelines and the Water Contamination Response Log

Cleaning Up Body Fluid Spills on Pool Surfaces
Vomit & Blood Contamination of Pool Water
Date of creation: February 15, 2013
Last modified on: June 1, 2020