Poison Prevention
Did you know? Most poisonings occur in children less than 6 years of age, yet most poisonings are both predictable and preventable.
Contact Us
For more information, please call Child Safety Middlesex London at 519-663-5317 or email childsafety@mlhu.on.ca.
---
Safety Tips
Actively supervise young children
Keep all poisons locked up and out of sight and reach of young children, this includes: medicines and herbal products, household cleaners, plants, antifreeze and windshield washer fluid
Install carbon monoxide alarms according to manufacturer's instructions
Keep the number of the nearest Poison Centre nearby and stored in your cell phone1
Teach children the hazard symbols and what they mean2
---
Cannabis Edibles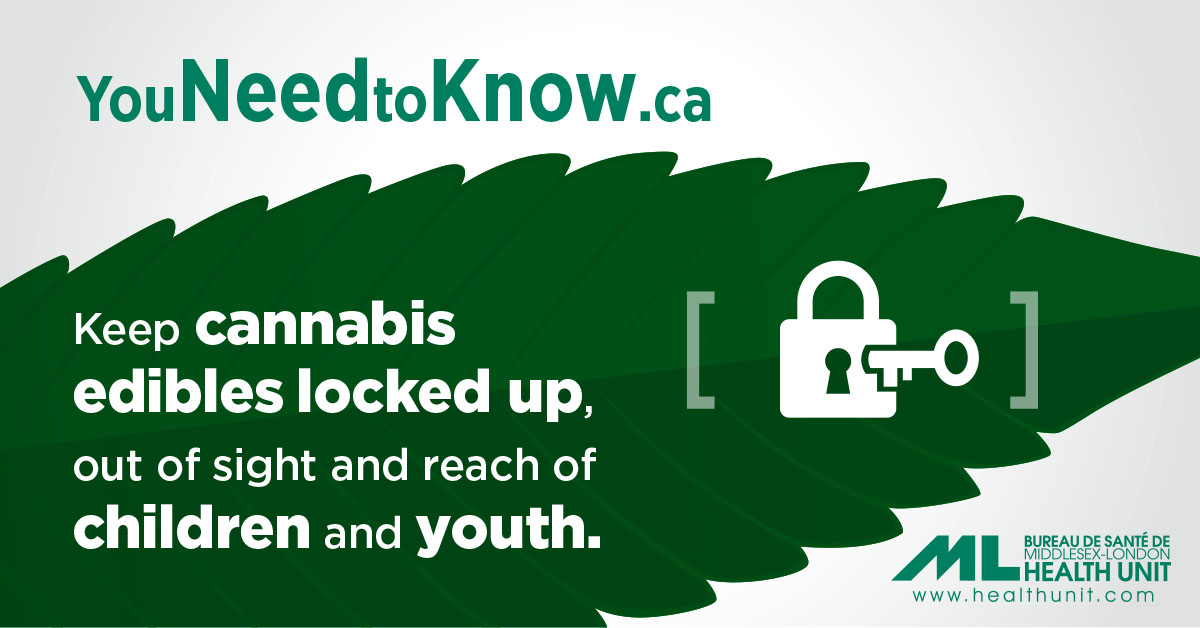 Cannabis edibles may look appealing to children and youth, so make sure they are properly labelled, locked up and stored out of sight and reach of children and youth. Poisoning could occur if children or youth unintentionally eat edibles which could lead to serious health problems.
Cannabis and young children. How to keep them safe.
Cannabis (marijuana, pot, weed) use for non-medical purposes is now legal in Ontario for those 19 years of age and older.
Research has shown that the use of cannabis by individuals under 25 years of age while their brain is still developing can put them at increased risk of mental health concerns, poor school performance and problematic substance use later in life.3
What about young children?
Healthcare Providers across Canada have voiced concerns about an increase in Emergency Room visits due to accidental poisoning of children who have ingested cannabis products. It is predicted this rate will increase with the legalization of cannabis edibles.4
Children's small body size and different metabolism means they are higher risk for poisoning. A cannabis product manufactured for adults can cause life-threatening symptoms in children such as respiratory distress, coma, seizures, disorientation and other symptoms of intoxication.5 Cannabis edibles such as cookies, squares (brownies), snack mixes, ice cream, beverages and candy are much more dangerous for children because:
They can be packaged to look like regular food or drinks, especially treats that may be more attractive to kids.
They often have a stronger and longer effects which can put children at a greater risk due to their smaller size and weight.4
How can we prevent accidental poisonings?
Just like other dangerous items such as poisons and prescriptions:
Lock them up! Put them up!
Young children can be fantastic climbers. Storing cannabis products in a high cupboard is not enough. Use a locked box, such as a fishing tackle or tool box and put that box up high!
Out of sight, out of mind
Make sure your children do not know where you store your locked-up items. Curious children love a tempting challenge.
Do not rely on "child-proof" containers!
There is no such thing as a "child-proof" container. Child-resistant containers are only designed to slow down a child.
Talk with babysitters, caregivers, playdate parents
Make sure that wherever your child is cared for, your concerns about safety are respected.
Have a plan for emergencies
If you think your child ate any form of cannabis, even if they have no symptoms, get medical help right away! Call 911 immediately.7
More Information
To learn more about cannabis, please visit our cannabis page or www.canada.ca.
---
Laundry Detergent Packets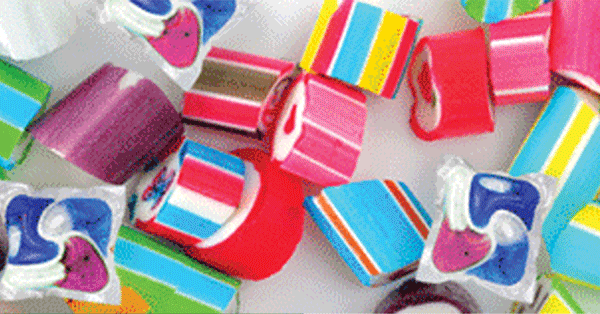 Laundry detergent packets are small and often brightly coloured, and may be mistaken by children for candy. These products often contain highly concentrated cleaning agents that can be dangerous if ingested or if they come into contact with skin or eyes, so always keep them locked out of sight and reach of children.
Did you know?
If ingested, laundry detergent packets can cause serious illness or even death.
If a laundry detergent packet bursts and comes into contact with skin it can cause serious skin reactions or chemical burns. Contact with the eye could result in temporary blindness or serious injury.
More Information
For more information about laundry detergent packets, please visit www.canada.ca.
Date of creation: February 27, 2013
Last modified on: December 6, 2019
References