What is personal protection?
Personal protection involves taking steps to help stop ticks from biting you and passing on Lyme disease. These steps should be taken when you are enjoying the outdoors to help prevent a tick bite:1
Wear light coloured clothes to make it easier to spot ticks.
Wear long pants, a long sleeved shirt, closed footwear and tuck your pants into your socks when walking in grassy or wooded areas.
Apply insect repellent / bug spray containing DEET. Follow the directions on the container. View insect repellents for information on how to choose the right one for your needs.
Check yourself and family members, including pets, after leaving an area where ticks may live. For example after visiting trails, long grass and wooded areas.
Shower or bathe within 2 hours of being outdoors to wash away loose ticks.
When checking for ticks pay special attention to areas such as the groin, scalp and armpits. Ticks like to bite in areas where they will go unnoticed for a long period of time.
How to reduce tick habitats near your home:1
Keep grass cut short in areas around your home and cottage where people and pets may walk.
Remove leaf litter, brush and weeds at the edge of the lawn and around stonewalls and woodpiles.
Move firewood piles and bird feeders away from the house.
Move children's swing sets and sandboxes away from the edge of woodlands and place them on a woodchip or mulch foundation.
Use hard materials to landscape your yard such as stone, woodchip or metals instead of soft materials like soil for planting.
See the Lyme disease web page to learn more about what ticks are and where they can be found.
What happens if a tick is found on a person's body?
If you find a tick on person's body, it is important to remove the tick as soon as possible. Removing ticks within 24 hours usually prevents Lyme disease infection.1 View Ticks in Middlesex-London for more information on which types of ticks can pass on Lyme disease. If you remove a tick from a person's body you can submit a photo to etick.ca for identification or submit it to the Health Unit for identification. Learn more about how to identify and remove a tick from your body by visiting the Government of Canada - Removing and submitting ticks for testing website.
How to properly remove a tick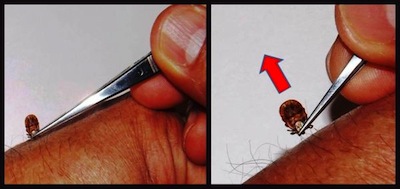 For safe removal of a tick, the Middlesex-London Health Unit suggests you follow these instructions:
Try to wear gloves when handling an engorged (blood fed) tick.
Use tweezers and grab the tick as close to the head as possible. Do not use your fingers.
Pull the tick upward and away from the body with steady pressure. Be sure to pull the tick straight out.
Once the tick has been removed, clean the area with soap and water. Seek medical attention if you are concerned about a possible skin infection.
Wash your hands thoroughly.
If possible, save the tick so it can be submitted to etick.ca or the Health Unit for identification. See How to Submit a Tick to the Health Unit.