This workshop will provide a comfortable environment where people can learn through discussions and hands on interactive games. This day is for both adults with a developmental disability and the staff who support them. We understand that some people may need one to one support and others may not. We expect at least one agency support staff per person, or per group of people that register. This workshop is not appropriate for individuals who are known sex offenders. All participants must be 16 years of age or older.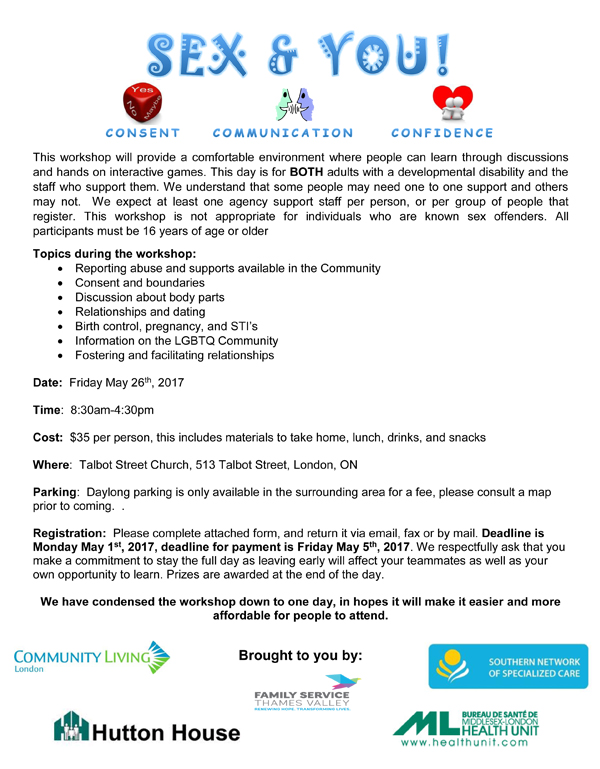 Topics:
Reporting abuse and supports available in the Community
Consent and boundaries
Discussion about body parts
Relationships and dating
Birth control, pregnancy, and STI's
Information on the LGBTQ Community
Fostering and facilitating relationships
Date:
Friday, May 26, 2017
Time:
8:30 a.m. - 4:30 p.m.
Cost:
$35 per person
This includes materials to take home, lunch, drinks, and snacks.
Where:
Talbot Street Church,
513 Talbot Street, London, ON
Parking:
Daylong parking is only available in the surrounding area for a fee. Please consult a map prior to coming.
Registration:
Please download and complete the registration form (Word document), and return it via email, fax or by mail.
Deadline is Monday May 1, 2017
Deadline for payment is Friday May 5, 2017.
We respectfully ask that you make a commitment to stay the full day as leaving early will affect your teammates as well as your own opportunity to learn. Prizes are awarded at the end of the day.
We have condensed the workshop down to one day, in hopes it will make it easier and more affordable for people to attend.