Table of Contents
Reporting Tuberculosis to Public Health
Under the Health Promotion and Protection Act (HPPA) health care providers are required to report diagnoses of TB infection and/or disease to their local public health unit.
Patient consent is not required for reporting this information. The Personal Health Information Protection Act (PHIPA) explicitly allows health care providers to disclose information to the local Medical Officer of Health for purposes outlined under the HPPA.
If active TB is suspected (but not confirmed) the HPPA also requires health care providers to report to their local Medical Officer of Health.
Health care providers can make reports to Public Health for any TB concerns (active or inactive) by calling the Middlesex-London Health Unit Infectious Disease Control Team:
Business hours: 519-663-5317 ext. 2330
After hours: 519-663-5317 (Option 2)
Positive TSTs, otherwise known as TB infection or latent TB, are reportable to the Health Unit by calling or faxing:
Latent TB: Your Questions Answered
Quick Reference: Assessment and Treatment of Latent Tuberculosis Infection
This document includes medication monitoring suggestions (Canadian Lung Association Publication).
View the reference guide →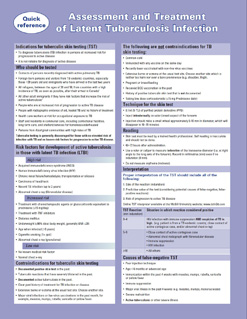 Read, Report, Rule out Active TB