Middlesex Centre, ON – Encouraged by warmer temperatures and drawn by a desire to be active, more and more cyclists are riding city streets and county roads. As bicycle riders and motorists find themselves increasingly sharing roadways, the London Middlesex Road Safety Committee has launched an awareness campaign to prevent collision-related injuries and deaths. Using an approach that combines traditional media with highly visible signage, the Share the Road campaign encourages drivers and cyclists to be courteous and respectful of one another, while providing safety margins for vehicles that pass bikes.
"Cyclists can be injured, or worse, when they are either struck by a vehicle that attempts to pass them, or when a vehicle passes too closely, causing a rider to lose control. That's why we're emphasizing leaving at least one metre between a vehicle and a bicycle on any roadway," says Joyce Castanza, Chair of the London Middlesex Road Safety Committee and a Public Health Nurse with the Middlesex-London Health Unit. "When you're behind the wheel and you pass a cyclist, consider whether there's enough room for an average-sized doorway or a dining room table between your vehicle and the bike. If there isn't, then there isn't enough room."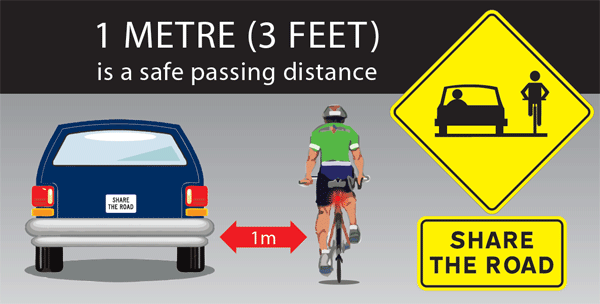 Although they are not permitted on 400 series highways, bicycles are considered vehicles under the Highway Traffic Act, requiring riders to follow the same rules as those who drive any other type of vehicle on public roadways. While not part of that legislation, the Share the Road campaign calls for a safety margin for vehicles that pass slower-moving bicycles. Through an awareness effort that includes advertising and signage, including four large roadside signs, the London Middlesex Road Safety Committee hopes it will become routine for drivers to leave at least one metre when passing a cyclist.
The London Middlesex Road Safety Committee is made up of representatives from The City of London, the County of Middlesex, the Municipality of Middlesex Centre, the Middlesex-London Health Unit, the Ontario Provincial Police Middlesex Detachment, the Ontario Ministry of Transportation, London Health Sciences Centre, London Police Service, Can Bike London, the Canadian Automobile Association, the London Block Parent Program, Young Drivers of Canada, Western University and Fanshawe College. The Committee's mandate is to make roads safer in London and Middlesex County.
Media Contact:
Dan Flaherty, Communications Manager, Middlesex-London Health Unit
519-663-5317 ext. 2469 or 519-617-0570 (cell)
Spokesperson:
Joyce Castanza, Chair, London