The Middlesex-London Health Unit released updated numbers today showing that more people across the region are rolling up their sleeves to get a first dose of COVID-19 vaccine. Each Tuesday the Health Unit updates the percentages of people across London and Middlesex County who have received a dose of vaccine, based on information from the COVaxON Provincial Vaccination Management System. Today's update includes information entered in the system up to Saturday, May 1st and shows increases across all age cohorts, most notably those between the ages of 60 and 64, and 65 and 69, which saw increases of 16.3 percent and 15.5 percent, respectively over the previous week's data.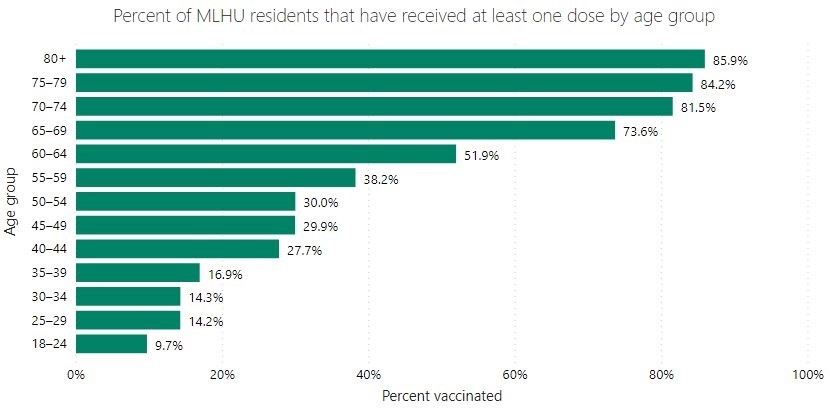 As vaccine eligibility only came into effect on Friday, April 30th, for those over the age of 55, most of the increase in vaccine uptake noted in today's update for those under the age of 55 can be attributed to vaccine delivered in pharmacies.
All COVID-19 vaccines being offered in the region have been approved by Health Canada and are safe and effective. The fact remains that the best vaccine for those living in London and Middlesex County is the one that is available to them right now.
"The enthusiasm for vaccines in London-Middlesex is extremely encouraging and reflected in the numbers we're seeing today. The best vaccine is the one you can get into your arm as soon as possible. That has been our message for weeks, and that remains our message going forward, plain and simple," says London Mayor Ed Holder. "I know Londoners will continue rolling up their sleeves as supply ramps up this month, and beyond. The light at the end of the tunnel is becoming brighter by the day."
"It has been a long and challenging year for all of us and now is not the time to ease up. As someone who has volunteered at the vaccination clinic in Mount Brydges, I have seen how eager people are to get vaccinated and to take a first step towards getting back to normal," says Middlesex County Warden Cathy Burghardt-Jesson. "Getting vaccinated as soon as you can is the best thing you can do to protect your loved ones and your neighbours, against the virus."
"It's great to see partners like pharmacies and primary care coming on board. We expect that uptake will increase substantially this month as more vaccine supplies arrive and eligibility is opened up to essential workers who aren't able to work from home," says Dr. Chris Mackie, Medical Officer of Health with the Middlesex-London Health Unit. "After more than a year fighting the pandemic, seeing so many people make the effort to get vaccinated is very reassuring."
"The Agriplex vaccination clinic, staffed by dedicated health care professionals, can provide more than 2,000 people a day with a COVID-19 vaccination. With more than 100,000 doses administered to date by LHSC, we're making significant progress but there's more work to be done to keep our community safe," says Neil Johnson, Chief Operating Officer, London Health Sciences Centre. "For those who haven't yet booked a vaccination appointment, we look forward to seeing you when you are eligible to receive a vaccine."
For today's update on the latest COVID-19 information for London and Middlesex County, including the percentage of people who have had at least one dose of vaccine, please visit www.healthunit.com/novel-coronavirus.
Media Contacts:
Dan Flaherty, Communications Manager, Middlesex-London Health Unit, 519-617-0570
Nathan Smith, Director of Communications, Mayor's Office, 519-200-3725
Spokespeople:
Ed Holder, Mayor of The City of London
Cathy Burghardt-Jesson, Warden of Middlesex County
Dr. Chris Mackie, Medical Officer of Health, Middlesex-London Health Unit