Healthy Weight Gain During Pregnancy
Gaining weight is a natural part of pregnancy. Your weight gain helps your unborn baby grow and develop and prepares you for breastfeeding. A balanced, nutritious diet during pregnancy is important to maintain your health, support healthy weight gain and nourish your fetus.
How much weight should I gain during pregnancy?
The amount of weight gain recommended during pregnancy depends on your Body Mass Index (BMI) before you became pregnant. Women within a healthy weight range should gain between 11.5 to 16 kg (25 to 35 pounds) during their pregnancy.
If your BMI is on the low side before becoming pregnant, more weight gain will be recommended. Approximately 40% of Ontario women are overweight or obese during their childbearing years and should gain less weight during pregnancy. More weight gain is recommended for multiple pregnancies. Typically, little weight is gained in the first trimester and most weight gain happens in the second and third trimesters. Talk to your health care provider about your weight gain.
Recommended Weight Gain according to Pre-Pregnancy BMI2

BMI

Weight gain

Underweight

<18.5

12.5-18 kg (28 – 40 lbs.)

Healthy weight

18.5 – 24.9

11.5 - 16 kg (25 – 35 lbs.)

Overweight

25 – 29

7 - 11.5 kg (15 – 25 lbs.)

Obese

>30

5 - 9 kg (11 - 20 lbs.)
Where does the weight go?

Most of the weight gained during pregnancy goes directly to the baby. Only a few pounds of the weight gained during pregnancy should remain after birth; however, it does take time for the uterus to shrink back to its pre-pregnancy size. Body fat helps with recovery after birth and provides energy for breastfeeding. The following shows the average amount of weight gain in a mother at a healthy body weight pre-pregnancy: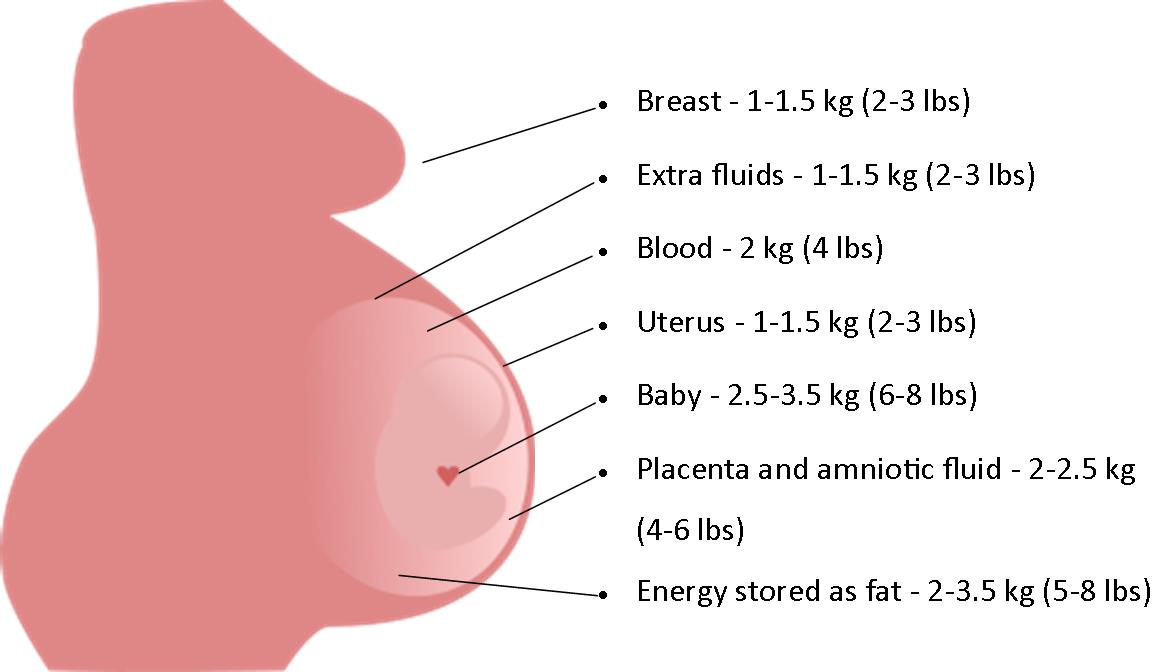 Risks of Gaining Too Much Weight
While it is difficult to prove the effects of too much weight gain during pregnancy, research suggests the following:
Possible problems for mom if she gains more weight than recommended
High blood pressure
Gestational diabetes
Increased risk of caesarean section
Complications during labour and birth
Difficulty losing weight after the baby is born
Possible problems for baby if mom gains more weight than recommended
Baby is more likely to be too large at birth
Baby is more likely to be born before 37 weeks of pregnancy
Baby is more likely to be very overweight as a child
Date of creation: February 19, 2015
Last modified on: October 29, 2021
References
3Institute of Medicine and National Research Council. (2009). Weight Gain During Pregnancy: Reexamining the Guidelines. Washington, DC: The National Academies Press, 2009.