Assessing Health Vulnerability to Climate Change
This report employed new assessment methods developed by the World Health Organization (2012) and took a participatory approach involving meetings with community leaders, and public health and emergency management officials to discuss preliminary findings and adaptation options. The results are based on a scientific literature review; analysis of community health and meteorological data; and projections of future climate conditions related to extreme heat, flooding, air pollution and the Lyme disease vector.
Report Conclusions
Health risks from climate change are growing for people living in Middlesex County and London and actions are needed to address potential impacts. Middlesex-London has a variable climate that can experience severe cold spells and also extreme heat events. There has been a general warming of temperatures and more snow is falling as rain while summers are getting drier. General warming is expected to lead to specific health risks; for example, more smog in southern Ontario in the absence of further pollutant emissions controls.
What's next?
The Middlesex-London Health Unit will work with municipalities to develop approaches to promote healthy built and natural environments to enhance population health and decrease environmental health risks, as indicated in the Healthy Environments and Climate Change Guideline, 2018 (PDF 417KB). These approaches include healthy environment strategies, climate change adaptation and reducing environmental exposures.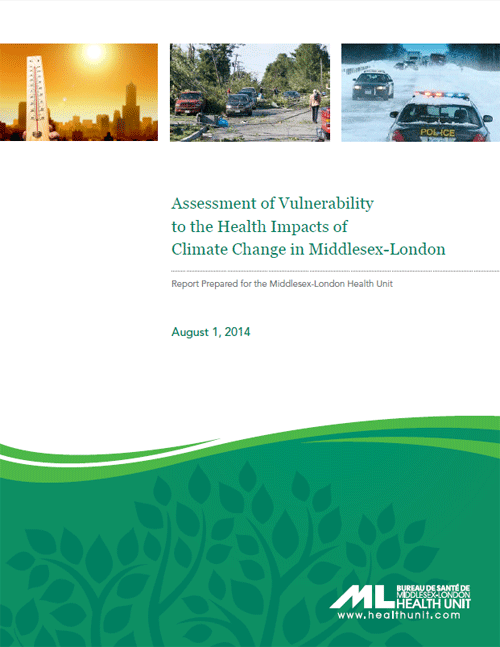 View, download and print:
Check out London's 2014-2018 Community Energy Action Plan