Should I be concerned about bed bugs?
At this time, there have been no known cases of bed bugs spreading disease to humans. Although bed bugs do not affect physical health, having bed bugs can be a source of stress and impact mental health and wellness.
How do I know if I have bed bugs?
Bed bugs feed on human blood, and usually bite the face, neck, body, or arms. Although bed bugs are not known to transmit any disease, they may leave small red bite marks, often lasting 3-4 days. Bed bugs can typically be found in the following areas:
In the corners and seams of mattresses or box-springs.
In the cracks/joints of wooden headboards and bedframes.
On bed sheets or pillows, most commonly along the seams.
In clothing storage, dressers, or other furniture.
Behind picture frames.
How do I protect myself and my family from bed bugs?
Take the following steps:
Clean areas where bed bugs hide.
Avoid picking up used furniture. If picked up, ensure that furniture is thoroughly cleaned and inspected before bringing it home.
Keep clean clothing in nylon bags, away from the walls if possible.
In a hotel or when visiting, ensure that furniture and bedding do not have bugs, feces or blood marks.
© Queen's Printer for Ontario, 2011
Bed Bug Sizes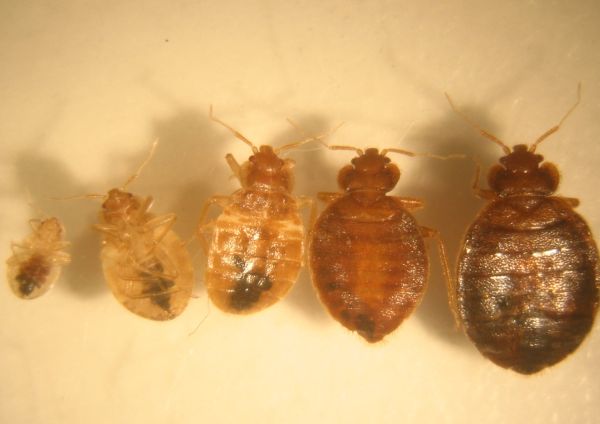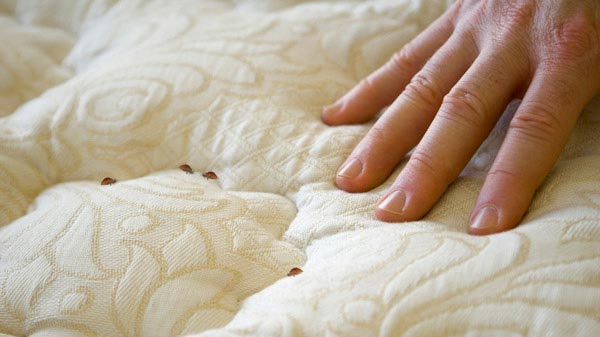 © Queen's Printer for Ontario, 2011