Common Triggers:
Foods: milk, egg, peanuts, tree nuts, fish and shellfish, mustard, sulphites, soy, sesame seeds, wheat
Medications
Latex
Exercise-induced
Unknown (idiopathic)
Common Symptoms:
F.A.S.T.
F: Face
Itchiness, redness, swelling of face or tongue, metallic taste in mouth
A: Airway
Trouble breathing, swallowing or speaking
S: Stomach
Pain, vomiting, diarrhea
T: Total Body
Rash, itchiness, swelling, weakness, paleness, sense of doom, loss of consciousness
Action:
Call 911 and inject auto-injector as trained.
EpiPen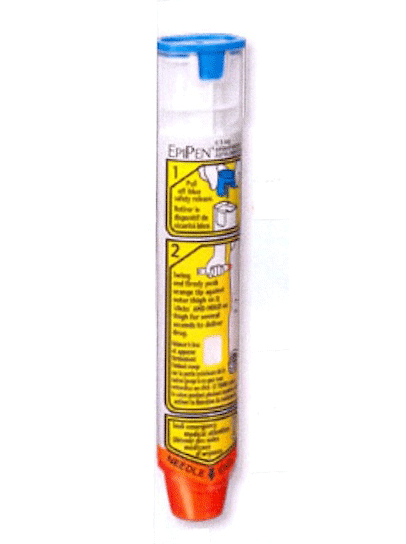 EpiPen image used with permission of Pfizer Canada Inc.